---
Report of the Council on the construction of a new building for the University Farm for its Centre for Agronomy
The COUNCIL beg leave to report to the University as follows:
1. The Centre for Agronomy is part of the University Farm and occupies Farm premises at Howe Farm and also a collection of small buildings immediately to the east of the World Conservation Monitoring Centre. Both sites are to the south of Huntingdon Road.
2. On the site adjacent to the World Conservation Monitoring Centre the existing agronomy functions are housed in buildings that were originally constructed sixty years ago for a completely different agricultural purpose - the commercial development of artificial insemination of cattle. Their arrangement reflects the need to house veterinary and scientific staff, animals, and laboratory equipment. As a consequence they comprise small, dispersed offices and extensive animal handling facilities which are almost impossible to convert to alternative uses. They do not allow satisfactory integration of staff nor efficient functioning, as the needs of Agronomy do not match those of animal handling. This lack of efficiency inherent in the current buildings cannot be restored by modification as the fundamental type and arrangements of the various buildings are unsuited to the current purpose. Moreover, they are showing extensive signs of age, with leaks in several roofs and deterioration in the walls and fittings.
3. The proposed new building will offer approximately 500 sq.m. of usable space on two floors. Facilities provided will include space for administration and research staff, laboratories, a library area, a meeting room, and a conference room. There will also be a grading shed provided near by which will include two cold stores. Adjacent to these buildings provision will be made for car parking and deliveries.
4. A detailed planning application for the new building will be submitted to Cambridge City Council at the beginning of March 2002.
5. The total cost of the building proposed is estimated to be £1.15m. Funds from Syngenta, Tesco, Fritolay (Walkers Crisps), and the Potato Association total £500,000 towards the cost of the development. The Council have agreed to provide the balance of funding for the project, which would then be repaid, over a period of time, from overheads on future University Farm research contracts.
6. It is estimated that the running costs of the new building will amount to £22,500 a year. The Council will take these costs into account when recommending allocations from the Chest.
7. Drawings of the proposed scheme are displayed for the information of the University in the Schools Arcade.
8. The Council recommend:
I. That approval be given for the construction of a new building for the Centre of Agronomy as described in this Report.
II. That the Treasurer be authorized to accept a tender for the works in due course within available funding provided by the University Farm.


| | | | |
| --- | --- | --- | --- |
| 28 January 2002 | ALEC N. BROERS, Vice-Chancellor | IAN LESLIE | G. A. REID |
| | A. J. BADGER | A. M. LONSDALE | JEREMY SANDERS |
| | JOHN BOYD | M. D. MACLEOD | M. SCHOFIELD |
| | PETER GODDARD | JAMES MATHESON | L. TAUB |
| | GORDON JOHNSON | Z. NORGATE | R. E. THORNTON |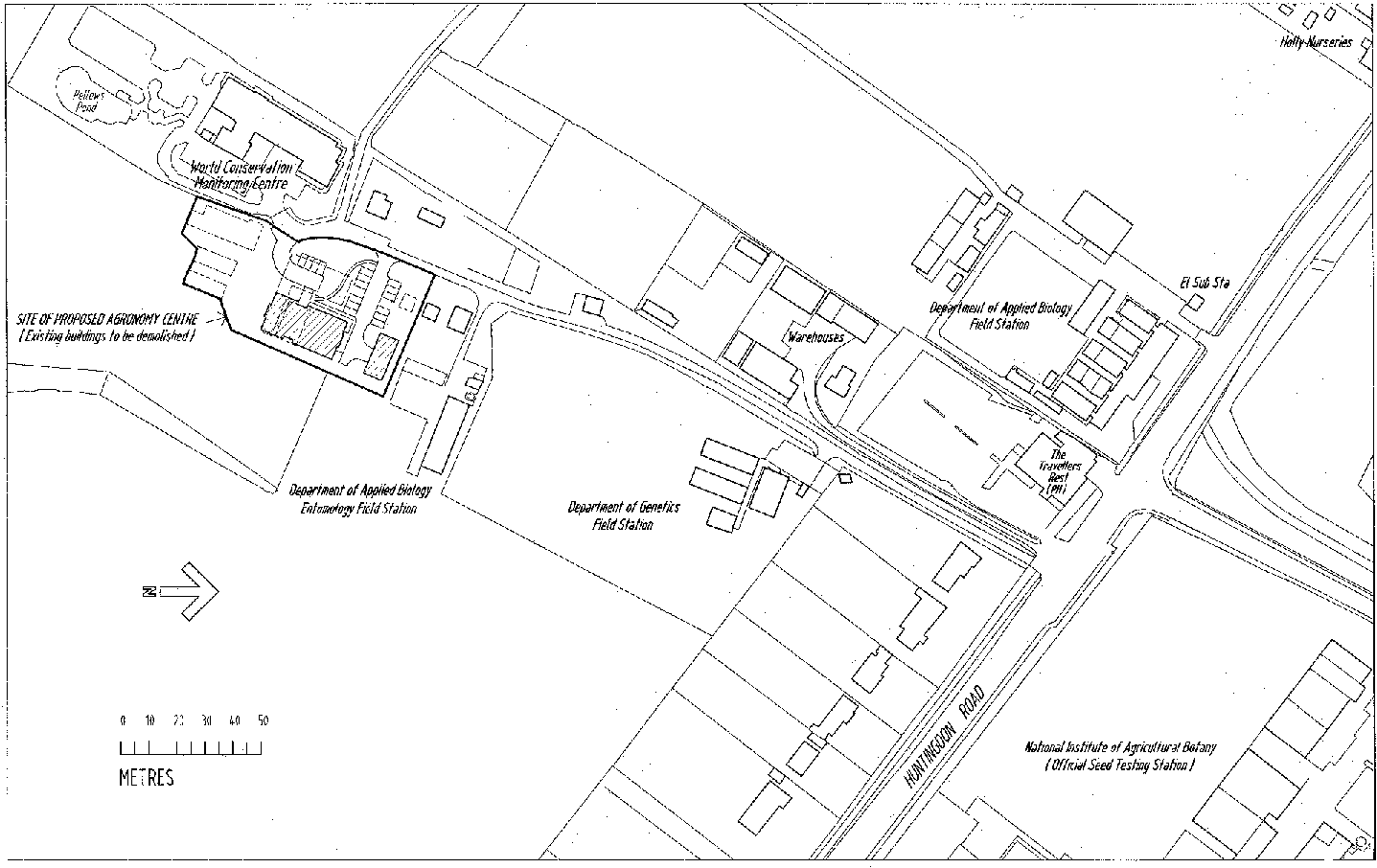 ---
---