---
Annual Report of the Sports Syndicate for the year 2004-05
The University Sports Syndicate reports to the Council as follows:
1. The Syndicate
The Sports Syndicate met on five occasions during the academical year with Dr J. R. F. Fairbrother, T, the Vice-Chancellor's Deputy, as Chairman. The Syndicate welcomed Miss Rachel Howe, NH, and Miss Sian Clement, W, appointed by the Women's Blues Committee, and Mr Dan Bray, R, Mr Rob Fulford, CTH, and Mr Paul Riley, EM, appointed by the Blues Committee. Mr Wes Streeting was appointed junior representative of the Colleges. Senior members representing various University institutions included Dr J. Lasenby, T, Dr J. A. Little, CTH, Ms D. Lowther, G, Dr R. E. McConnel, JN, Dr J. K. M. Moody, K, Mr C. Pratt, F, Miss R. Shaw, Mr A. Thompson, M, Dr D. M. Turner, PET, and Mr A. D. Lemons, HH, as Secretary.
2. Staff
Mr A. D. Lemons continued as Director of Physical Education and Secretary to the Sports Syndicate with Mrs Karen Pearce, Physical Education Officer. Mr A. K. Rodgers, Head of Sports Estates and Building Management, retired from University service during the year. Other members of the administrative staff included Mrs Barbara Beckett, Chief Secretary, Mr Mark Warner, Financial Clerical Assistant, and Mrs Zenobia Tavaria, Clerical Assistant. A comprehensive list of all staff members may be found at http://www.sport.cam.ac.uk/.
3. Funding
The Syndicate received funding under the current arrangements from the Colleges and the University Chest. The Colleges contribution for 2004-05 was increased to £3.27 per junior member in residence. This represented an increase of 27p on the previous year, realising an income of £55,905. The University's contribution was also increased to yield a figure of £40,316. The Syndicate also benefited from interest accruing to this account of £996. The income was used mainly to make grants to the 54 sports clubs recognised by the Syndicate. The grants play a crucial role in making it possible for these clubs to operate and for ensuring access for talented students, not just those who can afford to compete.
The Sport in Cambridge Fund income during 2004-05 was £5,203, with interest during the year of £2,694, increasing the Fund to a total of £66,968. The Fund, derived from the University's Licensing Programme under an agreement approved by the Council in 1993, is administered by the Sports Syndicate and is specifically for capital projects.
The Syndicate has met the University's obligations to the British Universities Sports Association (BUSA) and continues to contribute to the part payment of travel to BUSA events.
4. Approved University Sports Clubs
Under Regulation 7(c) of the regulations of the Sports Syndicate, the Syndicate is charged with maintaining a list of approved University sports clubs. This list for 2004-05 is published in Appendix 1.
5. Assistance to Clubs
The Syndicate's Committee on Grants met on four occasions during the year with Ms Rachel Shaw as Chairman. Other members of the Committee include all junior members of the Syndicate with Mrs K. Pearce as Secretary. The Committee received applications from 46 University sporting clubs and gave a total in recurrent grants of £57,380, non-recurrent grants of £8,478.86, and grants towards those clubs reaching the last 32 and finals of BUSA competitions of £1,919.68. A full list of grants awarded to clubs is included as Appendix 2. The Syndicate made grants to clubs of £7,090 for use of the facilities at Fenner's Tennis and Cricket Ground under arrangements approved by the Syndicate.
6. British Universities Sports Association
The Syndicate, acting on behalf of the University sporting clubs of Cambridge, has continued to contribute to the affairs of the British Universities Sports Association (BUSA). The Syndicate nominated Mrs Pearce and Mr Lemons as Vice-Presidents BUSA. The Syndicate paid a subscription of £9,372, based on 51 teams in 2003-04 at £86.26 per team, 359 individual entries in 2003-04.
7. Licensing arrangements
The market's confidence has continued to be restored as reflected by further improvements on last year in both new and renewed patents and royalties. Total cash income for 2004-05 of £78,670, with additional non-cash benefits, was received. Only a small number of University clubs currently benefit from this income, with the University receiving 15%. Beneficiaries include the nine Clubs involved in the former arrangements in the Adpro Scheme, an expansion of areas and benefits from licences granted by CU Rugby Union Football Club and the CU Polo Club. This Report does not include figures for any club undertaking private arrangements negotiated outside the scheme approved by the University.
8. Eric Evans Fund
The bequest from the Trustees of the Eric Evans Memorial Fund to establish the Eric Evans Fund produced an interest of £2,850 during 2004-05, which was made available for awards. The Syndicate appointed Dr J. Lasenby and Dr J. A. Little to act with the Director of Physical Education as Managers for the Fund. The Managers made the following awards:
| | | |
| --- | --- | --- |
| Grace Clements | EM | Athletics |
| Gemma Farrell | JN | Sailing |
| Adam Gilbert | F | Rugby Union |
| Ed Gunn | M | Snowboarding |
| Ben Hope | JN | Cross Country |
| Rachel Howe | NH | Sailing |
| Julian Lee | CHR | Swimming |
| Harry Leitch | F | Squash |
| Natalie McGoldrick | CHU | Equestrian |
| Emma Pooley | TH | Triathlon/Duathlon |
| Euan Spence | TH | Swimming |
| Graeme Spence | TH | Swimming |
| Steven Stuart | JE | Rowing |
| Rachel Tomlinson | F | Pole Vault |
9. Wilberforce Road Sports Ground
The Committee of Management met on two occasions during the year, reporting to the Sports Syndicate, with Dr J. Lasenby as Chairman. Other members of the Committee included:
Wilberforce Road Management Committee
Chairman
Dr J Lasenby, T
Director of Physical Education (Secretary)
Mr A. D. Lemons, HH
President of Cambridge University Athletics Club
Mr Dan Bray, R
Team Captain of Men's or Women's CU Athletics Club
Miss Grace Clements, EM
Senior Treasurer of CU Athletics Club
Mr Chris Pratt, F
Local Athletics
Mr Barry Wallman
Dr Neil Costello
Captain CU Hare and Hounds Club
Mr Ben Hope, JN
Captain CU Hockey Club
Mr Rob Fulford, CTH
Captain CU Women's Hockey Club
Miss Rachel Wheeler, CAI
Senior Treasurer CU Combined Hockey Club
Dr R. E. McConnel, JN
The academical year 2004-05 represented the tenth full year of operation of the Wilberforce Road Sports Ground since the opening of the Athletics Track and Pavilion in May 1995. Although operating well below its full potential due to a lack of any floodlighting provision for athletics or hockey, the sports ground has continued to increase its activities. The track remains the premier facility for athletics in the area and, as such, is the operational and training base for all athletes. Access is offered to University staff and their families or individuals, clubs, and schools outside the University (matriculated students having free access to facilities), taking out seasonal or half seasonal user cards. Group bookings are reported for each facility below.
Mr Parker, Custodian, assisted by Mr Maurice Benn, continued throughout the year. The Department Secretary, Mrs B. Beckett, undertook all bookings.
Athletics track
The track is the base for the UK Athletics Regional Coach, the University Athletics Club, and the Cambridge and Coleridge Athletics Club for City members. Many other sporting clubs from different disciplines used the track for training purposes. Groups booking the track at various times throughout the year include:
CU Athletics Club and Varsity Match
CU Cross Country Club
CU Colleges Athletics League
Cambridge and Coleridge Athletics Club (Regular bookings 3 times a week)
Long Road Sixth Form College
Coleridge School Sports
King's College School Sports
St Mary's School Sports
Area Prep School Championships
Perse School for Girls
Jubilee Cups, Small and Large Schools
RFU Referees
ER Championships for Disabled
Bottisham Village College
Primary Schools Festival Cambs
The Leys School
Hills Road Sixth Form College
St John's College School Sports and Fun Run
Eastern Counties Rugby Union Referees
Wildlife Trust Road Race
UK Athletics Coaching
Southern Men's Athletics League
Southern Women's Athletics League
Cambridge City Council
East Anglian Athletics League
East Anglian Young Athletes
Eastern Veterans League
Cambridge and District Schools Trials
Cambridgeshire FA
Comberton Village College
Cambridge Triathlon Club
Cystic Fibrosis Fun Run
Synthetic hockey pitch
The Syndicate commissioned a study into alternative floodlighting schemes for the athletics track and the current and proposed synthetic surfaces. The study, undertaken by Material Science Consultants, investigated the technical aspects of the provision of training lights for the athletics track and the requirements of national level hockey lighting for the synthetic surfaces. A public consultation on the new proposals will be undertaken in 2005-06.
The synthetic hockey pitch in 2004-05 continued to operate at close to its optimum capacity. However, more than any other facility the synthetic pitch suffers from a lack of floodlighting. The potential of this facility would be in excess of twice the current use given such provision. The pitch was predominantly used throughout the year by the University Men's and Women's Hockey Clubs with other groups at various times as follows:
CU Men's and Women's Hockey Clubs
CU College Hockey League
CU Cuppers
Cambridge City Hockey Club (Mixed hockey - weekly throughout summer)
St John's College School
Long Road Sixth Form College
Hills Road Sixth Form College
Eastern Hockey Association
Eastern Region Hockey Association
Cambridge Ladies Hockey Club
King's College School
Cambridge South
Eastern Counties Youth
Bidwells Hockey Club
Taylor Vinters Hockey Club
County U13 Boys
East Girls U14
Sports pavilion
The improved catering and bar facilities have increased the demand for this very attractive facility. The management committee endeavour to maintain a balance between the primary uses of servicing the needs of University sports clubs and providing a venue for sports conferences, seminars, and training days, and the more commercially attractive social functions. Groups making use of the facilities at various times include:
CU Sports Clubs
The Ospreys Club
The Hawks Dining Club
Cambridge and Coleridge Athletics Club
Coleridge Community College
Sport England
Federation of Eastern Sport AGM
British Canoe - Eastern Region AGM
East Region Coaching Athletics meetings
England Hockey
Active Sports
South of England Athletics Association
Sports England East
UK Athletics Coaching meetings
Sports Aid Foundation Lunches
TASS meetings
Eastern Area Hockey Association
East Region Hockey
UCS meetings
10. Fenner's Tennis and Cricket Ground
Fenner's Committee
Chairman: Dr D. M. Turner
Director of Physical Education (Secretary): Mr A. D. Lemons
Senior Member appointed by CU Cricket Club: Professor K. Siddle
Senior Member appointed by CU Lawn Tennis Club: Sir Geoffrey Cass
Senior Member appointed by CU Cricket and Athletics: Dr A. Cosh
2004-05 marked the fifth year of operation under the newly established Fenner's Committee as a Committee of the Sports Syndicate. Mr J. Moden continued as Head Groundskeeper, assisted by Miss Hannah Tripe, Junior Groundskeeper. Mr Steven Lawie, Deputy Head Groundskeeper, left University employment in July.
Fenner's remains the base for the MCC Universities Centre for Cricketing Excellence, the CU Cricket Club, and the CU Lawn Tennis Club, and during the Michaelmas Term the CU Association Football Club and the CU Falcons Association Football Club. As such its first-class facilities were used by a number of County teams for tennis and cricket matches and several professional football clubs whilst playing against the University.
Groups using Fenner's cricket facilities during the year include:
CU Cricket Club
CU Crusaders Cricket Club
Essex, Middlesex, Warwickshire, and Cambridgeshire County Cricket Clubs
MCC Young Cricketers
4 Univ. Cricketing Centre of Excellence
Cambridge St Giles Cricket Club
University BUSA matches
Bangladesh v BUSA
Combined Services
Cambridge Schools U17
Cambridgeshire Schools Final
ECB Women County Championships
The Lashings
Sancton Wood School Sports Day
St Colettes School Sports Day
Midlands CCC
Groups using Fenner's tennis facilities during the year include:
CU Lawn Tennis Club
Loughborough University
Hertfordshire LTA
BUSA University matches
Kent LTA
Bristol University
Bath University
Cambridgeshire LTA
International Club of GB
Harpenden LTC
Queenswood School
Old Blues
University of Wales Institute
Brighton University
The development of Fenner's as a County Centre of Cricketing Excellence continued to make progress with many outside groups and individuals using the facilities. Details of the development are available at http://www.sport.cam.ac.uk/cricket/facilitiesanddevelopments.html.
Groups using Fenner's Indoor Cricket School include:
Cambridge UCCE
CU Cricket Club
CU College Cricket Clubs
CU Dept Cricket Clubs
Camb Young Cricketers
Cambridgeshire Development Board
Cambridge City Courses
Anglia Polytechnic University
St John's College School
Sancton Wood School
Foxton CC
Cambridge St Giles CC
New Chesterton Institute CC
Babraham CC
Thriplow CC
Academy Courses
Level 1 and 2 Coaching Courses
Cottenham CC
Granta CC
Sawston CC
Longstanton CC
Weston Colville CC
Great Chesterford CC
Woozlers CC
All Saints CC
Burwell CC
The Globe Inn CC
Fulbourn CC
Exning CC
Saffron Walden CC
11. University Centre for Cricketing Excellence
The Management Group for the UCCE met on two occasions throughout the year. The Senior Coach, Mr Chris Scott, supervised the development of the selected students who are drawn from male and female students at Cambridge and Anglia Polytechnic (now known as Anglia Ruskin) Universities. The programme included a range of physiological tests and training supervision provided by APU, skills and techniques coaching, and a number of matches. The scheme is overseen by the ECB but now funded by the MCC. The total expenditure for the year's programme totalled £84,000 of which the MCC provided a grant of £65,000, with sponsors and the CUCC the balance. APU provided a significant number of services without charge to the scheme.
12. Physical Education Centre - Fenner's
The Physical Education Centre remains the administrative offices and main central University facility. The two gymnasiums continue to provide a basic training venue for many University and College clubs and as such are in great demand. Circuit training classes and other exercise groups led by department recreational assistants remain popular.
The Fitness Suite, for which there is a charge to all users, continues to maintain its attraction with a membership of 2,214 in the year. Income to offset the running costs totalled £79,471 drawn from student members, staff members, UCLES/CUP members, partner and family members, and alumni.
Mr Tristan Coles and Mr Brett Gooch continued as Recreational Assistants and Fitness Advisers, supported by part-time Recreational Assistants and generally supervised membership applications (all applicants undertake self assessing medical screening) and the maintenance and safety of the fitness suite and other induction courses, classes in aerobics and circuit training.
An analysis of the fitness suite membership is detailed in Appendix 3.
13. University Sports website
This year saw the continued success of the CU Sports website, http://www.sport.cam.ac.uk/. Creating an active interface between the University home page and University and College Sports Clubs, the site is designed to provide information to the University community, information to all outside the University on all aspects of University sport, and a news and publicity forum. An integrated e-mail system provides a rapid communication system, cost effectively overcoming many of the inherent communication problems of a collegiate University with a range of semi-independent sports clubs. The site gives details of all sports activities and contains Sports Syndicate documentation. All applications for grant support, BUSA communication, and other administrative matters are incorporated into the system. The site is linked to a number of external sites and provides up-to-date information on new facilities and results of University and College sports teams.
14. West Cambridge sports facilities
The fund-raising campaign continues with the launch by the Vice-Chancellor of the Cambridge 800th Anniversary Campaign to meet the cost of what will be one of the most advanced sports facilities in the country. The full report is available for consultation at http://www.sport.cam.ac.uk/westcambridgedevelopment/index.html.
15. Health and Safety
Following the University's Health and Safety Guidelines, and in compliance with the Sports Syndicate's general responsibility for the management of University premises, facilities, and services for sport and physical recreation, the Physical Education Department continued its extensive review of its Health and Safety policy and procedures. The Department Safety Committee met during each term. It oversaw the drafting of a number of significant documents in support of Health and Safety within the University and its sports clubs. A report of this important area of work appears as Appendix 4.
16. Community sport Volunteer Coaching Scheme
20 students were involved in regular placements (i.e. once a week or once a fortnight).
27 students were registered with the scheme.
Approximately 359 of voluntary hours undertaken (including one-off events).
Placements included: Cambridge Archers, Cambridge and Coleridge Athletics Club, Hurst Badminton Club, Schools Cross County Squad, Cambridgeshire Football Association, Beechwood School, Cambridge University Playscheme, Castle Project, Exercise Referral Rowing Scheme, Cambridge Disabled Kids, and Cantabrigian Rowing Club.
The following number of students accessed training through the scheme:
Archery Coaching Level one (2), Child Protection (2), Swimming Coaching Level 2 (1), Football Coaching Level 1 (3), Athletics Coaching Level 1 (1), Coaching Disabled Users (1).
Course attendance was paid for either by the scheme, volunteers, or in partnership with the organisation running the activities.
Cambridge Science Festival
The PE Department ran three events in March 2005 as part of the Cambridge Science Festival.
Science of Sport for Schools (Friday)
An Interactive Sports Science Event for school groups was held in the Indoor Cricket School. Three fully booked sessions with two junior schools, two secondary schools, and a group of home-educated students taking part. 112 children and teachers attended.
Science of Sport Open Day (Saturday)
An Interactive Sports Science Event for family groups was held in the Indoor Cricket School from 10 a.m. to 4 p.m. 366 people attended the event.
Cricket Coaching and video analysis (Sunday)
Practical coaching and analysis sessions run by the UCCE Head Coach and UCCE students from the University of Cambridge and Anglia Polytechnic University. The sessions were booked with 54 children and adults participating.
Volunteers
22 students and 7 members of staff were involved in the Science of Sport Events. A student volunteer took responsibility for recruiting and managing the student volunteers for the event.
Funding and local support
The Community Sports Project is kindly funded by grants from the University Active Community Fund. A BBC Radio Cambridgeshire Trustline Grant of £240 was awarded to the scheme in 2005. The Science of Sport event was sponsored by Cambridge University Press (£500 of sponsorship and £500 of printing). Grays Sports and Hobbs Sports donated prizes. Equipment was loaned from Anglia Polytechnic University, Cambridge United Football Club and Coleridge Community College.
Higher Education Active Community Fund Student Volunteering Awards
The Community Sports Project was short-listed by HEACF for a Student Volunteering award. The awards recognise the achievements of projects that have met the objectives of the HEACF, taking into account short-term and long-term volunteering opportunities, diversity, community relationships, systems developed, opportunities to enhance the volunteering experience, and sustainability.
Talented Athlete Scholarship Scheme 2004-05
The Talented Athlete Scholarship Scheme (TASS) is a Government funded programme that represents a partnership between sport and higher and further education. The programme awards Scholarships and Bursaries to talented athletes that are committed to combining their sport and education. It aims to reduce the drop out of talented athletes from sport and supports and develops the talent of today for sporting success in the future. Athletes do not directly receive any financial award but receive access to sporting services through the University of Cambridge, Anglia Polytechnic University, and their National Governing Body. These include; coaching, strength and conditioning, sports science support, medical support and insurance, competition and training expenses, and lifestyle management.
The following athletes were awarded TASS Scholarships in 2004-05 to the value of £3,000 each:
| | | |
| --- | --- | --- |
| Athlete | Sport | Institution |
| Kosi Abdullai | Women's Rugby Union | University of Cambridge |
| Bethan Carden | Sailing | University of Cambridge |
| Sam Cutts | Equestrian | University of Cambridge |
| Philip Edwards | Cricket (UCCE) | Anglia Polytechnic University |
| Gemma Farrell | Sailing | University of Cambridge |
| Rachel Howe | Sailing | University of Cambridge |
| Alexis Manion | Cricket (UCCE) | Anglia Polytechnic University |
| Jon Pinner | Sailing | University of Cambridge |
| Tom Savill | Cricket (UCCE) | University of Cambridge |
| Tom Webley | Cricket (UCCE) | Anglia Polytechnic University |
Appendix 1
CU Sports Clubs approved by the Sports Syndicate
CU Association Football Club
CU Women's Association Football Club
CU Athletics Club
CU Badminton Club
CU Basketball Club
CU Women's Basketball Club
CU Boat Club
CU Women's Boat Club
CU Bowmen Club
CU Boxing Club
CU Canoe Club
CU Cricket Club
CU Women's Cricket Club
CU Cruising Club
CU Cycling Club
CU Eton Fives Club
CU Fencing Club
CU Gliding Club
CU Golf Club
CU Olympic Gymnastics Club
CU Hare and Hounds Club
CU Hockey Club
CU Women's Hockey Club
CU Ice Hockey Club
CU Women's Ice Hockey Club
CU Judo Club
CU Karate Club
CU Korfball Club
CU Lacrosse Club
CU Women's Lacrosse Club
CU Lightweight Rowing Club
CU Modern Pentathlon Club
CU Netball Club
CU Orienteering Club
CU Polo Club
CU Powerlifting Club
CU Rackets Club
CU Real Tennis Club
CU Revolver and Pistol Club
CU Riding Club
CU Rifle Association
CU Rugby Union Football Club
CU Women's Rugby Union Football Club
CU Rugby Fives Club
CU Rugby League Club
CU Ski Club
CU Small Bore Club
CU Squash Rackets Club
CU Women's Squash Rackets Club
CU Swimming and Waterpolo Club
CU Table Tennis Club
CU Lawn Tennis Club
CU Trampoline Club
CU Volleyball Club
Appendix 2
Sports Syndicate Grants, 2004-05
| | | | |
| --- | --- | --- | --- |
| CU Club | Recurrent Assistance | Non-Recurrent | BUSA Travel |
| Association Football | £2,289.00 | | |
| Association Football - Women's | | | |
| Athletics | £3,330.00 | £500.00 | |
| Badminton | £2,691.00 | | |
| Basketball | £1,581.00 | | |
| Basketball - Women's | £846.00 | | |
| Boat Club - Women's | £1,221.00 | £1,000.00 | |
| Bowmen | £832.50 | (£1,000 guarantee) | |
| Canoe | £999.00 | | |
| Cruising | £1,887.00 | £1,000.00 | |
| Cricket | £1,874.00 | £225.00 | |
| Cycling | £466.20 | £300.00 | |
| Eton Fives | £777.00 | | |
| Fencing | £1,206.00 | £527.00 | |
| Golf | £1,665.00 | | |
| Gliding | £555.00 | | |
| Gymnastics | £444.00 | | |
| Hare and Hounds | £1,088.00 | | |
| Hockey - Men and Women | £2,094.00 | £2,528.86 | |
| Ice Hockey | £1,110.00 | | |
| Ice Hockey - Women's | £1,054.50 | | |
| Judo | £777.00 | | |
| Karate | £1,110.00 | | |
| Korfball | £783.50 | | |
| Lacrosse | £832.50 | | |
| Lacrosse - Women's | £970.50 | | £208.68 |
| Lawn Tennis | £3,010.50 | | £308.00 |
| Lightweight Rowing | £800.00 | | |
| Modern Pentathlon | £1,075.00 | | |
| Netball | £1,137.00 | | |
| Orienteering | £999.00 | | |
| Powerlifting Club | £344.10 | | |
| Rackets | | | |
| Real Tennis | £399.60 | | |
| Revolver and Pistol | £333.00 | £510.00 | |
| Riding | £577.00 | | |
| Rifle Association | £832.50 | £1,200.00 | |
| Rugby Fives | £832.50 | | |
| Rugby Football - Women's | £1,179.00 | | |
| Rugby League | £846.00 | | |
| Ski and Snowboard | | £500.00 | |
| Small Bore | £388.50 | | |
| Squash and Rackets | £1,414.50 | | |
| Swimming and Waterpolo | £7,089.00 | | |
| Table Tennis | £415.50 | | £126.00 |
| Trampoline | £754.80 | | |
| Volleyball | £2,469.00 | | £525.00 |
| TOTAL | £57,380.20 | £8,478.86 | £1,919.68 |
Appendix 3
Fitness Suite Membership
Membership subscription 2000-05

2000-01
2001-02
2002-03
2003-04
2004-05
Student
2,167
2,250
1,979
1,756
1,690
Staff
299
328
334
330
344
Other
75
110
114
126
180
Total
2,541
2,688
2,427
2,212
2,214
Membership Subscription 2004-05

Students (inc. Counselling referrals 25)
1,690
Staff
344
Family
54
Cambridge Assessment
65
CUP
5
Alumni
56
Total
2,214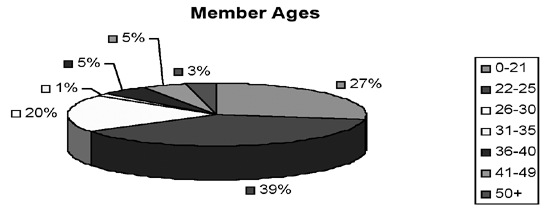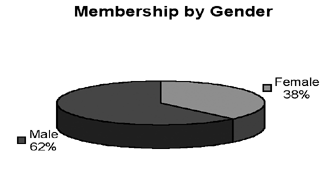 College Affiliations
| | | | |
| --- | --- | --- | --- |
| | Student members of gym | Student members of College* | % |
| Christ's College | 64 | 519 | 12 |
| Churchill College | 45 | 694 | 6 |
| Clare College | 54 | 606 | 9 |
| Clare Hall | 8 | 152 | 5 |
| Corpus Christi College | 28 | 398 | 7 |
| Darwin College | 86 | 478 | 18 |
| Downing College | 80 | 613 | 13 |
| Emmanuel College | 106 | 633 | 17 |
| Fitzwilliam College | 42 | 650 | 6 |
| Girton College | 31 | 674 | 5 |
| Gonville and Caius College | 136 | 696 | 19 |
| Homerton College | 99 | 1,140 | 9 |
| Hughes Hall | 151 | 429 | 35 |
| Jesus College | 39 | 685 | 6 |
| King's College | 45 | 530 | 8 |
| Lucy Cavendish College | 14 | 186 | 8 |
| Magdalene College | 30 | 485 | 6 |
| New Hall | 7 | 436 | 2 |
| Newnham College | 18 | 528 | 3 |
| Pembroke College | 19 | 599 | 3 |
| Peterhouse College | 45 | 366 | 12 |
| Queens' College | 42 | 785 | 5 |
| Robinson College | 38 | 489 | 8 |
| St Catherine's College | 92 | 593 | 17 |
| St Edmund's College | 41 | 318 | 13 |
| St John's College | 15 | 811 | 2 |
| Selwyn College | 38 | 491 | 8 |
| Sidney Sussex College | 79 | 498 | 16 |
| Trinity College | 58 | 1,001 | 6 |
| Trinity Hall | 73 | 534 | 14 |
| Wolfson College | 6 | 461 | 1 |
| Total | 1,629 | 17,478 | 9 |
* Figures based on full-time undergraduate and postgraduate College student numbers as published in the Reporter, Special No. 19, Friday 26 August 2005, Vol CXXXV, Table 12. Student numbers by College, 2004-2005.
Appendix 4
Annual Health and Safety Report 2004-05
1. Health and Safety Committee
The Department Health and Safety Committee met four times in the academical year 2004-05.
Terms of Reference:
The Department Health and Safety Committee aims to:
stimulate the interest of all members of the Department in matters relating to the health and safety of all staff, students, and the public engaging in sport and physical at University facilities.
create an active safety culture and to encourage the participation of all persons working within the Department.
formulate Department policy on health and safety matters.
investigate breaches of health and safety guidelines.
make arrangements for regular safety inspections and audits in the Department.
investigate and review accidents/incidents/near misses, review the risk assessment, and recommend action for future avoidance.
2. Officers Responsible for Safety
The Director of Physical Education is responsible for the implementation of the University Health and Safety Policy within the Physical Education Department. The following staff assist the Director in implementation of the University Safety Policy at the Department level:
| | |
| --- | --- |
| Department Safety Officer | Karen Pearce |
| Department Fire Manager | Anthony Rodgers/Tristan Coles (Nov 2004) |
| Deputy Fire Manager | Robert Barber |
| Department Chemical Safety Manager | Philip Parker |
3. Safety Documentation
A. Safety Information
Safety Information Sheets were available for each site. Site Safety leaflets, codes of practice, and key safety information were available online. Guidance on policies and procedures, risk assessment and codes of practice, first aid requirements, insurance, and training was also available online for University Sports Clubs.
B. Risk Assessment
Risk Assessments were reviewed during the year for sports facilities under the management of the Physical Education Department and all staff activities, including those undertaken by work experience students. Chemicals used for cleaning and Ground maintenance were assessed using the University Chemical Risk Assessment Forms.
C. Community Sports Projects
The Department ran a successful programme of National Science Week activities for local school groups and families. Risk Assessments were completed for all activities and Health and Safety management and Child Protection information packs were distributed to volunteers. First Aiders were on duty throughout the events.
D. Child Protection Policy
A draft Department Child Protection Policy was approved by the Sports Syndicate and forwarded to the University Registrary, Personnel Division, and the Colleges Senior Tutors' Committee for comment.
4. First Aid
A. First Aid for Sport Group
The University First Aid Sub-committee agreed to the formation of a First Aid for Sport Group. The group will cover all areas of first aid, focusing on common sports injuries, the management of injuries on the field of play, dealing with sports personnel, children and young people, athletes with disabilities and elite sports performers, and strategies for promoting recovery and return to sport. The first meeting of the group took place in March 2005 with Mr Owen Tucker acting as Group Leader. The group will normally meet once a term. Meetings are open to PE Department staff, University Sports Club Coaches, Club First Aiders and other University First Aiders with a specific responsibility or interest in sports injuries.
B. First Aid Qualifications and Training
The Department continued to invest in First Aid training for staff.
The following members of staff hold First Aid at Work qualifications:
| | | |
| --- | --- | --- |
| Mr Tristan Coles | (expires Oct 2006) | |
| Mr Brett Gooch | (expires Feb 2008) | |
| Mr Wayne Jacobs | (expires June 2006) | |
| Mr Anthony Lemons | (expires Feb 2008) | |
| Mr Chris Matthewman | (expires Feb 2008) | |
| Mr John Moden | (expires Feb 2008) | Department First Aider |
| Mr Philip Parker | (expires Oct 2005) | Department First Aider |
| Mrs Karen Pearce | (expires Feb 2008) | |
| Mr Chris Scott | (expires Feb 2008) | Department First Aider |
The following staff have attended an Emergency Aid for appointed persons course:
Mrs Zenobia Tavaria
Miss Hannah Tripe
C. Defibrillator for PE Centre
The Occupational Health Service and the Physical Education Department jointly purchased a defibrillator for the Fenner's Site. The defibrillator is held behind reception. The Physical Education Department are responsible for undertaking the daily equipment check and the Occupational Health Division carry out weekly and monthly checks. The following Physical Education staff attended defibrillator training in November 2004:
Crofton Alexander
Tristan Coles
Brett Gooch
Chris Matthewman
5. Fire Safety
Fire alarm systems were tested on a weekly basis at Wilberforce Road and Fenner's Physical Education Centre. The manual fire bell at Fenner's was tested biannually. Building fire drills were undertaken at each term.
6. Inspections
Department inspections took place in the Easter Term 2005. The Inspection team consisted of:
Anthony Lemons (Director)
Karen Pearce (Safety Officer)
Will Hudson (Deputy University Safety Officer)
John Hulme (Chemical/Physical Safety Adviser)
The Department Health and Safety Committee received the Inspection Reports.
7. Maintenance, minor works, and equipment purchases
Restoration work was undertaken throughout the PE Centre following a serious flood in June 2004. The gym floor was sanded, marked and sealed, floor tiles replaced, walls repainted, and damaged electrical equipment and sports equipment replaced.
New fire doors were installed across the PE Centre to comply with the Phase II Fire Risk Assessment undertaken by EMBS.
Fixed Wiring Inspection and Testing was undertaken throughout the PE Centre and at the Tennis and Cricket Pavilions in April 2005. The work was arranged by EMBS.
The University Track was re-certified by UK Athletics.
8. Health and Safety Training
The Department continued to invest in Health and Safety related training for its staff. The following training was undertaken in 2004-05:
Cardiac Rehabilitation Phase IV
British Association of Cardiac Rehabilitation (BACR)

Brett Gooch
Certified Personnel Trainer
National Strength and Conditioning Association

Tristan Coles
Certified Strength and Conditioning Specialist
National Strength and Conditioning Association

Tristan Coles
Core Stability Certification
YMCA

Tristan Coles
Level 4 Cricket Coach
English Cricket Board

Chris Scott
Stress Management Briefing
Health and Safety Division

Karen Pearce
Pregnancy Briefing
Health and Safety Division

Karen Pearce
Ladder Safety Training (December 2004)
Health and Safety Division

Robert Barber
Brett Gooch
Steve Lawrie
John Moden
Phil Parker
Hannah Tripe
---
---