---
Report of the Council on the construction of residences, a nursery, and shared facilities at West Cambridge
The COUNCIL beg leave to report to the University as follows:
1. The West Cambridge Master Plan was approved by the Regent House by Grace 8 of 14 May 1997 and outline planning approval for the Master Plan was obtained in April 1999. The Master Plan incorporates extensive infrastructure support, and a land-use mix including: University teaching and research facilities; research organizations including incubator units for science-based businesses; shared amenities - sports facilities, cafes, shops, and campus centre facilities; residential use - accommodation for University staff and postgraduates including a nursery; and a park-and-cycle facility.
2. Infrastructure works, which started in July 2000, are now being implemented site-wide at West Cambridge and include laying improved mains services and up-grading roads, as well as the formation of earth banks and perimeter planting and preparation for development around the East Square.
3. Proposals for funding, procurement, and management of housing, a children's nursery, and the East Forum are being developed. The East Forum, residences, and nursery are fundamental to the success of those buildings already under construction and for the whole of West Cambridge.
4. It is proposed to construct two four-storey buildings of 13,830 sq.m. gross external floor area to the north and south of the East Square, comprising one-, two- and three-bedroom residential accommodation, residential/commercial shared facilities, and a childcare nursery. The East Square Development is immediately south of the existing paddocks belonging to the School of Clinical Veterinary Medicine, as indicated on the accompanying plan which shows the residences and nursery hatched.
5. The new buildings will provide 206 flats and maisonettes, including four specifically designed for those with disabilities, as rented accommodation for postgraduate students, postdoctoral researchers, visiting academics, and newly appointed University staff. Approximately two-thirds of the flats will be available furnished. The north block will accommodate 62 two- and three-bedroom flats and an 88-place childcare nursery for babies, toddlers, and pre-school children of University staff and students. The south block will accommodate 144 one-bedroom flats and residential/commercial shared facilities at lower ground floor level. Limited car parking for residents will be provided on the basis of one space per six one-bed flats and one space per two- or three-bed flat.
6. The proposed development has been designed to RIBA design stage C and a planning application seeking Reserved Matters Approval will be submitted in February 2002, following completion of RIBA design stage D (scheme design).
7. The project is estimated to cost £23m. Capital expenditure for the development of the nursery will be funded using the accumulated reserves of the Staff Childcare Committee built up from their annual allocation from the chest, following a recommendation by the Committee that the reserves be used in this way. The remaining capital expenditure will be funded by a capital loan to be secured either internally or through an external source. Details of any arrangement for secured borrowing that might be necessary will be put before the Regent House for approval as soon as they are finalized. The development is intended to be self-funding, such that the projected rental income stream is sufficient to meet expected recurrent costs, and the capital and interest loan repayments.
8. The Council recommend:
I. That approval be given for the construction of the residences, nursery, and shared facilities development as proposed in this Report.
II. That the Treasurer be authorized to accept a tender for the buildings and all associated works in due course, subject to achieving a self-funding scheme.

| | | | |
| --- | --- | --- | --- |
| 28 January 2002 | ALEC N. BROERS, Vice-Chancellor | IAN LESLIE | G. A. REID |
| | A. J. BADGER | A. M. LONSDALE | JEREMY SANDERS |
| | JOHN BOYD | M. D. MACLEOD | M. SCHOFIELD |
| | PETER GODDARD | JAMES MATHESON | L. TAUB |
| | GORDON JOHNSON | Z. NORGATE | R. E. THORNTON |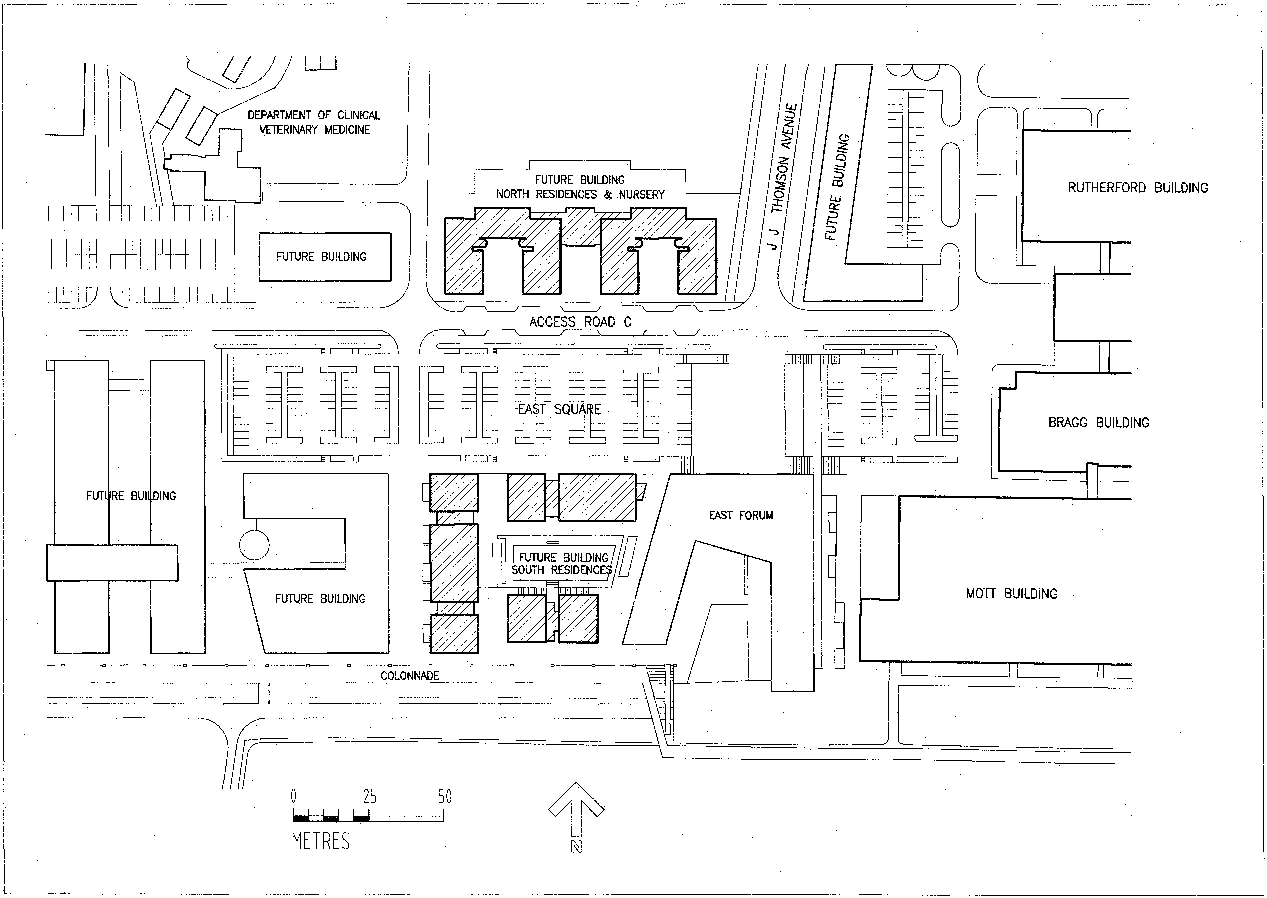 ---
---