---
Report of the Council on the construction of a new building for the Institute of Criminology on the Sidgwick Avenue Site
The COUNCIL beg leave to report to the University as follows:
1. The Council reported to the University in December 2000 (Reporter, p. 309) on proposals for the further development of the Sidgwick Avenue Site. Their Report introduced a new Master Plan for the Site, which contained general infrastructure proposals and identified an area to be made available for a new building for the Institute of Criminology (Site C in the plan attached to that Report).
2. The Institute of Criminology currently occupies 7 West Road which, despite several extensions, and the use of temporary buildings, is too small for the current activities of the Institute without considering future expansion needs. A new building provides the opportunity to give the Institute of Criminology the presence and identity to match its world-class standing as a Social and Behavioural Science Research Centre.
3. The proposed new building will offer approximately 2,800 sq.m. of useable space on five floors, including a large basement. Facilities provided will include space for administration and academic staff, seminar rooms, a large library area on the ground and first floors, common rooms, a boardroom/conference room, and space for research teams and postgraduate workspaces. There will also be a covered bicycle storage area in the basement. The area between the new building and the Raised Faculty Building will be re-landscaped following the principles established in the Master Plan, and the lift tower on the Lecture Block will be re-clad in materials more sympathetic to the new development.
4. A detailed planning application for the new building was submitted to Cambridge City Council at the beginning of June 2001.
5. The total cost of the building proposals is estimated to be £13.75m including inflation, assuming a start on site during April 2002. An application for a SRIF Grant of £10.3m has been successful. Sufficient additional funding from donations received for the building of a new Institute of Criminology building is already assured.
6. It is estimated that the running costs of the new building will amount to £125,000 a year. The Council will take these costs into account when recommending allocations.
7. Drawings of the proposed scheme are displayed for the information of the University in the Old Schools Arcade.
8. The Council recommend:
I. That approval be given for the construction of a new building for the Institute of Criminology as described in this Report.
II. That the Treasurer be authorized to accept a tender for the works in due course within available funding.
| | | |
| --- | --- | --- |
| 23 July 2001 | | |
| ALEC N. BROERS, Vice-Chancellor | MATT HOOD | JAMES MATHESON |
| P. AKHTAR | GORDON JOHNSON | Z. NORGATE |
| A. J. BADGER | DONALD LAMING | G. A. REID |
| JOHN BOYD | I. M. LESLIE | JEREMY SANDERS |
| PETER GODDARD | D. W. MACDONALD | M. SCHOFIELD |
| D. A. GOOD | M. D. MACLEOD | |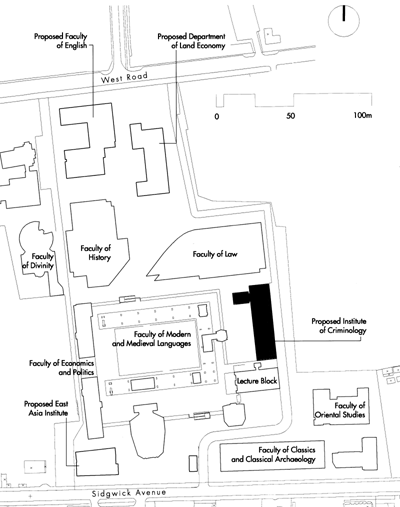 ---
---