---
Report of the Council on the construction of a Nano-Fabrication Building at West Cambridge
The COUNCIL beg leave to report to the University as follows:
1. A new single storey building of 1,735 sq.m. gross external floor area comprising a laboratory, clean rooms, offices, and a meeting room is proposed to house nano-scale science research at West Cambridge. It is planned to position the building immediately north of the existing Cavendish Laboratory as shown in the accompanying plan.
2. The new building will be named the Interdisciplinary Research Centre for Nano-Fabrication (IRCNF) and will facilitate the multi-disciplinary/departmental approach necessary for the successful development of nano-scale technology. The Centre will accommodate research in this field undertaken by the Departments of Engineering, Physics, Chemistry, Materials Science and Metallurgy, and the Institute of Biotechnology. In addition the facility will be used by research staff from University College London and Bristol University for multi-institutional research projects.
3. The proposed development has already received full detailed planning permission.
4. The project is estimated to cost £7.10m and it is currently the subject of a SRIF bid seeking full funding from the Higher Education Funding Council for England. An application for these funds was forwarded to the Science Research Investment Fund at the end of May. It is expected that research income from Research Councils and industrial sources will provide for overheads.
5. The Council recommend:
I. That approval be given for the construction of the Interdisciplinary Research Centre for Nano-Fabrication as proposed in this Report.
II. That the Treasurer be authorized to accept a tender for the building and all associated works in due course, subject to full funding being available.
| | | | |
| --- | --- | --- | --- |
| 11 June 2001 | ALEC N. BROERS,Vice-Chancellor | GORDON JOHNSON | JAMES MATHESON |
| | A. J. BADGER | DONALD LAMING | G. A. REID |
| | C. R. J. BAILEY | A. M. LONSDALE | JEREMY SANDERS |
| | MAT COAKLEY | C. LUDLOW | M. SCHOFIELD |
| | PETER GODDARD | D. W. MACDONALD | L. TAUB |
| | D. A. GOOD | M. D. MACLEOD | |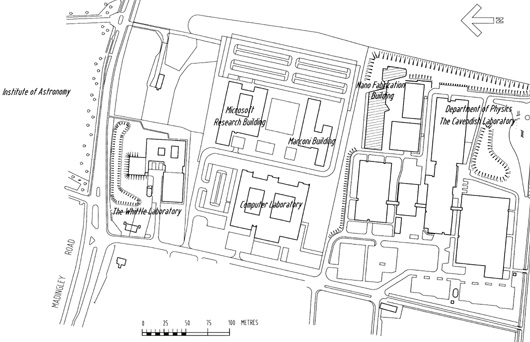 ---
---