---
Report of the Council on the construction of an Equine Diagnostic and Rehabilitation Centre for the Department of Clinical Veterinary Medicine
The COUNCIL beg leave to report to the University as follows:
1. The Department of Clinical Veterinary Medicine sees its future role in the equine community as a centre of excellence, obtaining the highest possible standards of equine diagnostic treatment and welfare. In 1992, Saunders Boston Chartered Architects were commissioned to prepare a feasibility study for the proposed new equine facilities at the Department. To assist funding, the project was divided into two phases; Phase 1, the construction of an Equine Clinical Unit, now called the Equine Surgical Suite, to provide improved facilities for the surgical treatment of horses; and Phase 2, the construction of a Diagnostic and Rehabilitation Centre. Phase 1 was completed in 1997 and the Department is now seeking the construction of Phase 2, The Equine Diagnostic and Rehabilitation Centre.
2. A scheme has been prepared by Saunders Boston for Phase 2 adjacent to the Phase 1 building as shown on the accompanying drawing. The proposed building will provide 604 sq.m. of floor space.
3. The Finance Committee has recommended the proposals for approval. The estimated cost of the work is £739,000 including fees and VAT. This will be met from funding available to the Department from the Home of Rest for Horses, with matching funding from the CamVet appeal. It is expected that the running costs for the Centre will be met from fees received from users.
4. In view of the urgency to commence this building contract at the beginning of the Long Vacation 2001 it is proposed to submit a planning application by the end of February 2001, under the General Board's delegated arrangements.
5. Drawings of the proposed scheme are displayed for the information of the University in the Schools Arcade.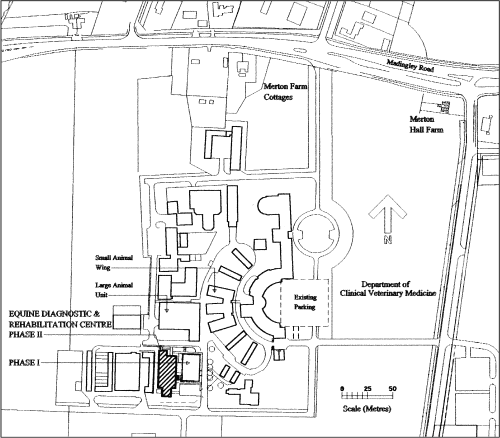 6. The Council recommend:
| | |
| --- | --- |
| I. | That approval be given for the construction of an Equine Diagnostic and Rehabilitation Centre at the Department of Clinical Veterinary Medicine. |
| II. | That the Treasurer be authorized to accept a tender for the works within the available funding. |
| | | | |
| --- | --- | --- | --- |
| 26 February 2001 | ALEC N. BROERS, Vice-Chancellor | GORDON JOHNSON | J. M. R. MATHESON |
| | A. J. BADGER | I. M. LESLIE | G. A. REID |
| | C. R. J. BAILEY | A. M. LONSDALE | JEREMY SANDERS |
| | MAT COAKLEY | C. LUDLOW | M. SCHOFIELD |
| | PETER GODDARD | D. MACDONALD | L. TAUB |
| | D. GOOD | M. D. MACLEOD | R. E. THORNTON |
---
---