---
Report of the Council on JIF-funded refurbishment at the Department of Chemistry
The COUNCIL beg leave to report to the University as follows:
1. In November 1998 an application was submitted for funding from the Joint Infrastructure Fund (JIF) for works in the Department of Chemistry comprising mainly refurbishment of existing laboratory accommodation, but also including areas of new building work and the purchase of equipment. On 10 May 1999 the Chief Executive of the Engineering and Physical Sciences Research Council (EPSRC) confirmed that the Joint Executive Committee had approved the application in principle. The exact amount of the award has yet to be announced but it is anticipated that it will represent a major proportion of the £37m applied for. The award is subject to certain conditions and further information being provided (principally that planning approval has been granted) before the funding for some elements of the scheme is finally confirmed.
2. In addition to the EPSRC award, the budget for the project includes a contribution of £2.5m from the University; the latter is a virement from the fume cupboard refurbishment programme, since a large proportion of the planned necessary fume cupboard replacement work will now be incorporated in the scheme being funded by JIF. The University's contribution will be used to fund the boiler decentralization works, which will release space so that the existing boiler room can be converted into a new Technical Services Centre.
3. The Estate Management and Building Service is currently managing a project to refurbish laboratories on the ground and first floors at the east end of the south wing of the building. This scheme was the subject of a Report by the Council published on 29 July 1998 (Reporter, 1997-98, p. 958). The proposals for this scheme provide for the use of external ducting to ventilate the new fume cupboards, and the installation of new flues to discharge waste gases to the atmosphere; the external ductwork is to be concealed by an etched glass screen forming a new façade to the Union Road elevation.
4. The principles established to deal with the ventilation ducts for the project presently under way will also be applied to the proposed JIF-funded refurbishment works. The proposed alterations to plant rooms at roof level, and the installation of new flues and external ductwork to serve the north wing, as well as other miscellaneous items of new building work, make it necessary to apply for planning consent for these elements of the work.
5. The JIF-funded proposals have been co-ordinated with the Department's long-term development plan and the University's planned programme of fume cupboard refurbishment in the building.
6. The Council recommend:
I. That the Director of Estate Management be authorized to submit a planning application for certain elements of the scheme as described in this Report.
II. That the Treasurer be authorized in due course to accept tenders for the works within the funds identified.
25 October1999
ALEC N. BROERS, Vice-Chancellor
T. JONES
ONORA O'NEILL
TONY BADGER
DONALD LAMING
JEREMY SANDERS
A. L. R. FINDLAY
MELISSA LANE
M. SARDY
L. GROO
JOHN A. LEAKE
M. SCHOFIELD
DAVID HARRISON
A. M. LONSDALE
DAVID M. THOMPSON
BRIAN F. G. JOHNSON
M. D. MACLEOD
R. E. THORNTON
GORDON JOHNSON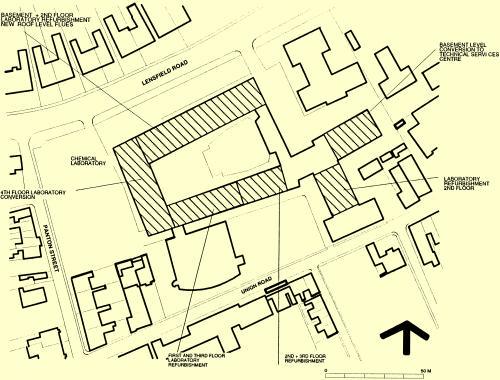 ---
---