---
Report of the Council on the construction of a building for the BP Institute at Madingley Rise
The COUNCIL beg leave to report to the University as follows:
1. In their Report, dated 22 July 1998, on the establishment of a BP Professorship of Petroleum Science and related matters (Reporter, 1997-98, p. 969) the General Board proposed inter alia the establishment of a multi-disciplinary research institute in petroleum science, to be known as the BP Institute, involving the Departments of Earth Sciences, Applied Mathematics and Theoretical Physics, Chemistry, Chemical Engineering, and Engineering. The new institute will be funded by a generous benefaction from British Petroleum plc, which includes a capital grant of £2m for accommodation and equipment. The Council now propose the construction of a building to provide the necessary accommodation, to be located at the host Department, the Department of Earth Sciences, Madingley Rise.
2. A scheme has been developed by Architects Cowper Griffiths for the erection of a building at Madingley Rise adjoining both the north side of the existing Earth Sciences building and the stable block to its rear. The proposed building will provide 816 sq.m. (gross) of accommodation, arranged on three floors, comprising mainly office accommodation, with a meeting room and ancillary service areas. In addition, the first floor of the stable block will be converted to form a residential flat for use by academic visitors to the Institute.
3. The architects' design team have given an assurance that the proposed building is not expected to have any adverse effect on the mature Atlantic Cedar which stands in the garden of Madingley Rise. When the development is completed ground water is expected to stabilize at a level half a metre below the current level, which is higher than that experienced in recent drought years.
4. The cost of the scheme is currently estimated at £1.77m. While the capital grant of £2m was originally expected to be divided into £1.5m for the building and £0.5m for equipment, it has been agreed that the budget for equipment should be reduced in order to meet the additional cost of the building works. It is expected that the new accommodation will be completed by October 2000.
5. The benefaction from BP has been used to establish a fund under the title of the BP Institute Fund. The running costs of the new building, which are expected to be approximately £44,000 a year, will be met from this fund.
6. Drawings of the proposed scheme are displayed for the information of the University in the Schools Arcade.
7. The Council recommend:
I. That the Director of Estate Management be authorized to apply for planning consent for the construction of a building for the BP Institute, as proposed in this Report.
II. That the Treasurer be authorized in due course to accept a tender for the works within the funds identified.
7 December 1998

| | | |
| --- | --- | --- |
| ALEC N. BROERS, Vice-Chancellor | D. E. L. JOHNSTON | ONORA O'NEILL |
| T. S. ADKINS | JOHN A. LEAKE | SANDRA RABAN |
| MARTIN BOBROW | HOLLY LINKLATER | MARK RHINARD |
| A. L. R. FINDLAY | A. M. LONSDALE | M. SCHOFIELD |
| DAVID HARRISON | C. T. MORLEY | JOAN M. WHITEHEAD |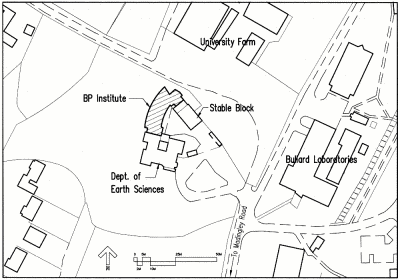 ---
---